Join us in Celebrating the WGHS Class of 2020!
The Foundation is distributing "Class of 2020" signs to every graduating senior — nearly 400 signs — so students, friends, families, and neighbors can celebrate creatively this Spring! These signs are FREE for every Senior!
We're also about to announce $40,000 in scholarship grants to graduating seniors, and we're working with WG Middle School to honor their promoting 8th Graders and Golden Book nominees.
Donate to support this project: Donate $25 – Donate $50 — Donate more — Order Extra Signs
Donors will be redirected to our donation page, and your 'donation cart' will appear in the right-hand column.
---
A note from WGHS Principal Tina Vanlaarhoven and Foundation President David Keller:
Dear Seniors: Congratulations!
Seriously, we mean it! Your community is proud of you for the hard work and dedication you've put into your planned commencement later this year. But we're devastated that you won't be able to walk across that stage in front of your friends and loved ones in June.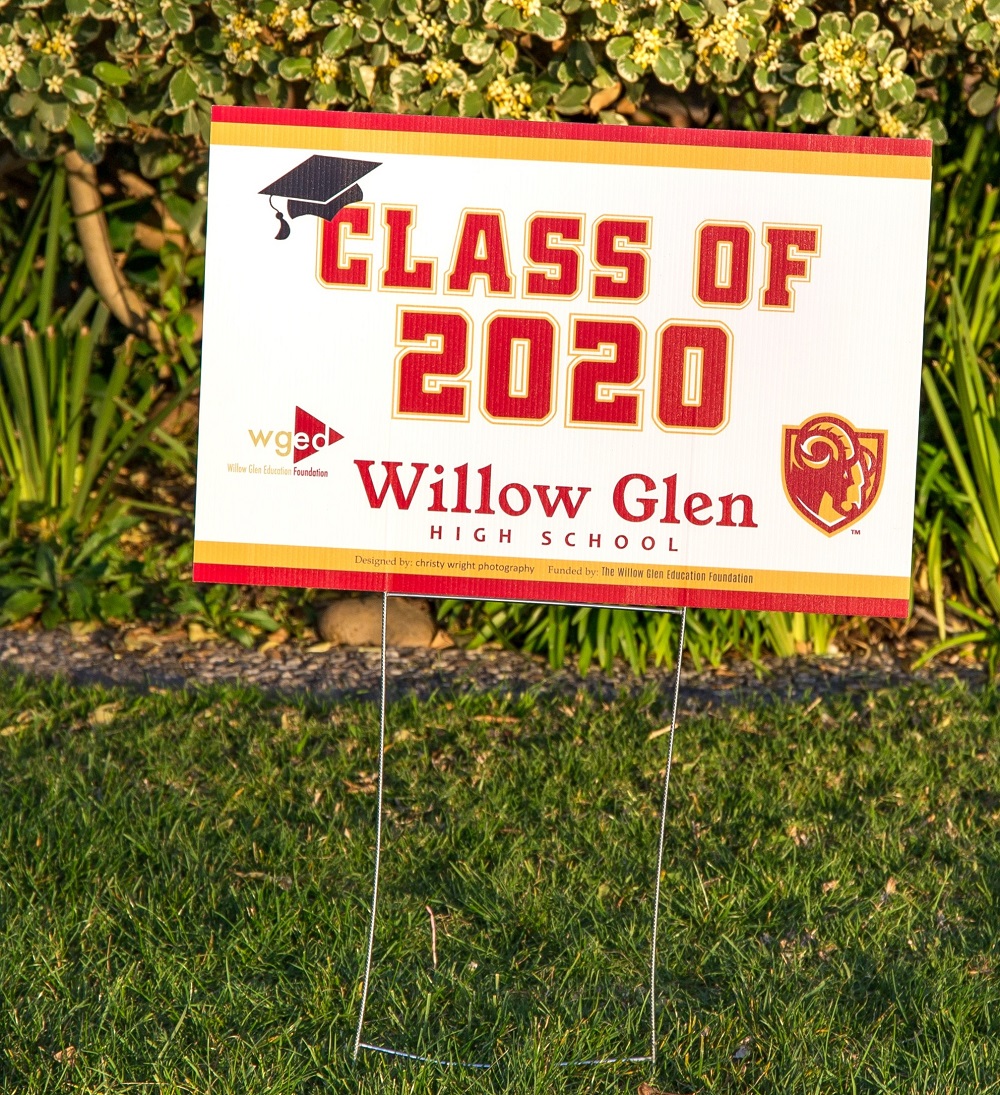 We know that you've earned the right to celebrate, and we'd like to help. Big celebratory signs should arrive at every Senior's home over the next few days and into next week.
These signs — delivered free to every graduating senior — are meant for you to display proudly (perhaps in a window or planted in your front yard), so everyone can see that you are a graduate in the WGHS Class of 2020.
Your sign is a gift from Willow Glen High School and the Willow Glen Education Foundation, provided to you free, thanks to our donors and community volunteers.
We'd especially like to thank christy wright photography and the Rise Fulfillment Network for their help creatively producing and safely delivering these signs.
If you'd like, feel free to share your pictures with this sign on social media or among your friends. We'd be honored if you'd tag us @WillowGlenFound (Instagram or Twitter) or comment on Facebook @WillowGlenFoundation.

We also invite you to use the hashtags #WGHS2020 and #WillowGlenGrad
We hope you enjoy your upcoming graduation celebrations as best you can, and we wish you good luck as you begin life beyond high school!
---
Additional Signs Are Available
Would you like a second sign for the Class of 2020? Would you like your own sign to acknowledge your achievement during this strange time? Other signs are available to order (for WGHS 8th Graders, all WGHS students, and even other schools), delivered to your house in a few weeks.
Order more online: Visit cwrightphotos.com – $25 Each
Portions of the proceeds from these additional orders will benefit Willow Glen Cares (a program of the Willow Glen Education Foundation), which helps students from both WGHS and WGMS who need our support the most.