Our full 2016-18 Donor Report is available for download!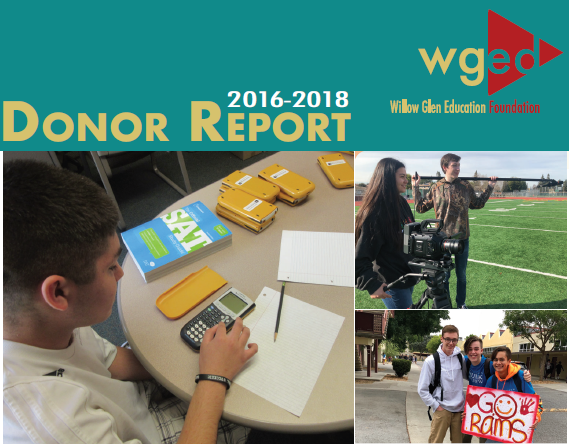 ---
Since 2000, the Willow Glen Education Foundation has been bringing together parents, faculty, alumni, and corporate donors to supplement funding for public schools in our community. Thanks to your financial support, the foundation is able to provide academic and cultural enrichment at Willow Glen Middle and High Schools.
The Foundation continues to build upon the programs it has supported over the years, while also adding new strategies to reach more students than ever. During the 2018-19 school year, we're aligning our funding priorities with the program improvement goals set by our schools:
Willow Glen High School Improvement Goals:
• Decrease the opportunity gap
• Improve math skills
• Prepare students for post-graduate success
Willow Glen Middle School Improvement Goals:
• Project Lead the Way elective courses
• Math curriculum and teacher training
• Computer upgrades and software licensing
The Foundation spent more than $115,000 during the 2016-17 school year and $165,000 during the 2017-18 school year to enhance the equipment and training needed to make our student experience better than ever.
How do we do it? Our annual Tasting & Auction in November 2016 raised $70,000; in 2017, the annual Tasting & Auction revenue grew to $95,000. In addition, the Foundation receives a portion of the annual RamStarter campaign.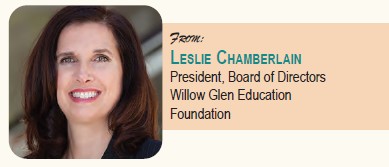 Please join us in support of these funding goals! We welcome volunteers in all areas, and we invite our community to join us in contributing to our positive school environment.
Leslie Chamberlain
President
---
Join your neighbors and friends! Please consider making a charitable donation to support our kids. All contributions are tax-deductible (Tax ID #46-2106211). If your employer matches donations, please provide us with the information needed to maximize your gift.
---
Many of our previous Annual Reports are still available for your review: