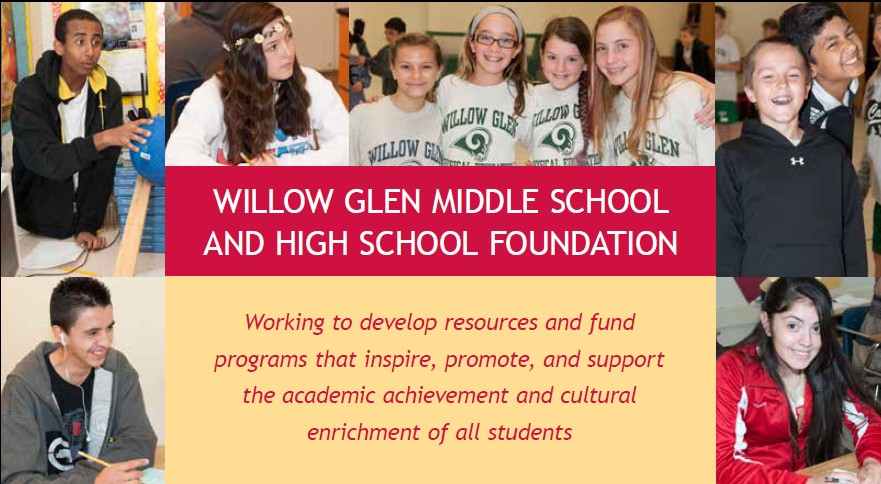 Our full 2014 Annual Report is available for download!
---
Dear Friend of the Willow Glen Foundation,
It's been another fantastic year for Willow Glen High School and Willow Glen Middle School, and we continue to be thankful to our community of supporters who have paved the way for the Willow Glen Foundation to be able to provide resources that allow our schools to move ahead on a clear and vibrant path.
The Foundation's mission is straightforward. We work to develop resources and fund programs that inspire, promote, and support the academic achievement and cultural enrichment of all students. This means reaching out to our community throughout the year and asking you to join us in fulfilling our mission. Like our schools, we can't do it alone. Fortunately the Willow Glen community never fails to step up. This year, with an outpouring of support, the Foundation's Annual Tasting & Auction once again topped its previous record fundraising total –- netting more than $52,000. Together with other donations, this event allowed the Foundation to provide more than $65,000 directly to Willow Glen Middle and High Schools, funding requests that the schools strategically integrate into their overall enrichment efforts.
These resources propelled our schools forward in so many ways, from supporting teachers to enrich classroom curriculum through professional development and supplies for engineering labs, to providing resources that build community across the two campuses, to fostering academic excellence in a myriad of ways.
Willow Glen Middle School and Willow Glen High School both provide outstanding academic opportunities, co-curricular options, and extra-curricular programs – individually and as a team. One such effort that has made enormous strides in the past year is the development of a unique and innovative Science, Technology, Engineering, and Mathematics (STEM) program, starting in middle school and moving seamlessly through high school. The Foundation is proud to provide resources for these endeavors, that continue to strengthen our schools, our students, and our community.
With support from local businesses and individual donors, along with committed volunteers and dedicated educators, the Willow Glen Foundation has been able to make an enormous difference for our youth – supporting them to be successful students today and leaders in the future.
With sincere thanks for your many contributions.
Karen Carter
President
---
Please consider making an additional donation to kick off our 2014-15 fundraising effort. All contributions are tax-deductible (Tax ID #46-2106211). If your employer matches donations, please provide us with the information needed to maximize your gift.
---

In 2013-14, the Foundation provided Willow Glen High School and Willow Glen Middle School with resources that supported the collaborative development of innovative and hands-on science, technology, engineering, and math (STEM) courses, creating a unique STEM pathway from middle school to high school – and on to college and career.
STEM Step One: Willow Glen Middle School
This year, Willow Glen Middle School science teachers attended Gateway to Technology (part of Project Lead the Way), an intensive training program hosted by San Jose State University, preparing them to effectively implement an engaging 8th grade engineering curriculum. Next year will see the enhancement of the science program, with biomedical courses that will include a novel approach to forensics. Principal Shannon McGee sees enormous potential for these programs, and looks forward to new content, additional teacher involvement, increased enrollment, and ultimately more students pursuing these subjects in high school and beyond.
Engineering teacher Samta Nema sums it up succinctly, stating that the best part of teaching the engineering course is that it is "student centered." Students also praise the course: "I like the project challenges and how we apply what we learn in our designs. It's a really fun class." Adds another: "I really like being able to build something out of nothing, and working together with other people."
One challenge of program implementation is the cost of teacher training and equipment. Says Principal McGee, "If the Foundation didn't help, we'd be struggling."
The STEM Path Continues: Willow Glen High School
Continuing the STEM path, Willow Glen High School offers programs in Biomedical Science, Engineering, and Computer Science. What started as one class in Biomedical Innovations has blossomed to include Principles of Biomedical Science, Human Body Systems, and Medical Interventions. Like the middle school courses, these classes rely on curriculum and teacher training developed by Project Lead the Way. In addition to these popular STEM courses, Willow Glen High School offers introductory and advanced courses in Computer Science, developed in close collaboration with Santa Clara University. About a third of Willow Glen High School students currently take advantage of one or more courses in this series. Just as it does for the middle school, implementation of the high school program presents funding challenges.
As Principal Kaia Hamilton explains, "The programs require continual updates of software, consumables, and equipment. Without funds from groups like the Foundation, many of these things wouldn't happen. It would be an enormous loss."
Our full 2014 Annual Report is available for download!
---