Just Released: Our full 2018-19 Annual Report is available for download!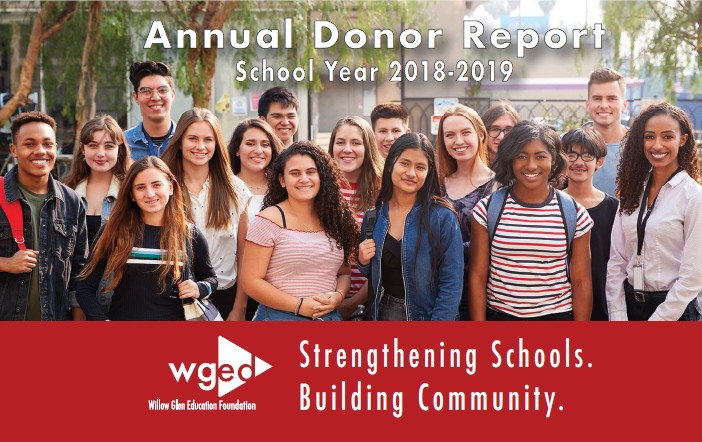 ---
Entering our 20th Year of Making A Difference in Willow Glen
Thank you for your support of excellent education at our Willow Glen public secondary schools. The Willow Glen Education Foundation is entering its 20th year of serving both Willow Glen Middle School and Willow Glen High School.
As I begin my term as president of the Foundation, I am humbled by the long line of incredible volunteers who have made our schools better each and every one of these 20 years. Together, we've funded critical classroom equipment, necessary instructional supplies, innovative curriculum enhancements, cutting-edge teacher training, student leadership activities, and several entirely new classes—all for our students, every year. The Foundation also supports other parent and student groups, matches volunteers with educational needs, and coordinates scholarships for graduating seniors.
As you review the programs shared through this Annual Report, I invite you to visit our website, to share our stories by joining us on social media, and to support our work by returning as a donor for the 2019-20 school year. Thanks to your support, our 20th year will be our best yet.
David Keller
President 2019-20, Willow Glen Education Foundation
Parent, WGHS Classes of 2017 & 2020
---
Join your neighbors and friends! Please consider making a charitable donation to support our kids. All contributions are tax-deductible (Tax ID #46-2106211). If your employer matches donations, please provide us with the information needed to maximize your gift.
---
Many of our previous Annual Reports are still available for your review: