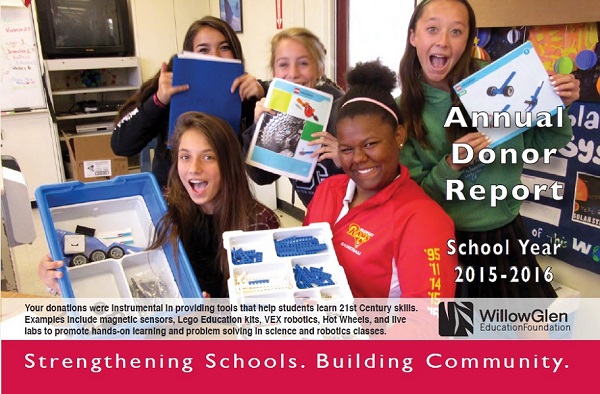 Our full 2016 Annual Report is available for download!
---
Dear Friend of the Willow Glen Foundation,
Last school year was an exciting one for the Foundation. We celebrated our 15th anniversary and raised a record $131,000, thanks to the generosity of our donors! And we're continuing to put that money to work in exciting ways that fuel academic achievement, cultural enrichment, and community building at Willow Glen Middle and High Schools.
It was also a year of new beginnings. Last Spring, our board of directors and the board of the Willow Glen High School Parent Club both voted to merge our two organizations. Our combined group will continue to fund state-of-the-art tools and technology; teacher supplies, recognition, and professional development; and academic and cultural programs for our students.
With our new organization comes a new name – Willow Glen Education Foundation, emphasizing our commitment to excellence in public education. You may have noticed our new name on this report. And watch for our brand new logo to be launched in early 2017.
Finally, this fall the Foundation launched our new RamStarter campaign, a school-year kickoff fundraiser for parent groups and student leadership activities at both schools. This kick-start to the school year was a revamp of our old "Ram Pride" campaign, and it was met with tremendous support. The final numbers are still coming in, but we know that donors contributed more than $75,000 combined for all of our groups, more than they ever have before.
Our success over the last year, and over the past 15 years, is due to the generous support of individual donors and local businesses, along with committed volunteers and dedicated educators. You make it possible for the Foundation to make a difference for our youth – helping them be successful students today and leaders in the future.
With sincere thanks for your many contributions!
Karen Carter
President
---
Join your neighbors and friends! Please consider making a charitable donation to support our kids. All contributions are tax-deductible (Tax ID #46-2106211). If your employer matches donations, please provide us with the information needed to maximize your gift.
---
Many of our previous Annual Reports are still available for your review: