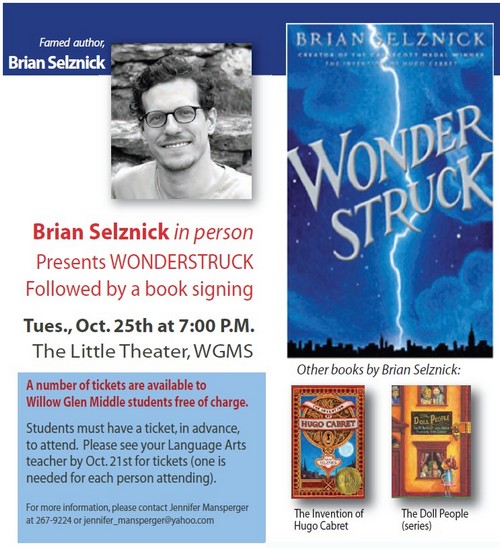 Admission for the general public is $5 per person (payable to Hicklebees) and good toward the purchase of 'Wonderstruck.' The Willow Glen Foundation has bought copies of Mr. Selznick's new book for classroom use. If your student would like his/her own personal copy, Hicklebees will sell copies for $29.99 plus tax at this event as well as other books by Mr. Selznick's. Cash or check payable to Hicklebees.
About Brian Selznick
Acclaimed New York Times-bestselling author/illustrator Brian Selznick graduated from the Rhode Island School of Design with the intention of becoming a set designer for the theater. However, after spending three years selling books and designing window displays for a children's bookstore in Manhattan, he was inspired to create children's books of his own. His books have received many awards and distinctions, including a Caldecott Medal for The Invention of Hugo Cabret, a Caldecott Honor for The Dinosaurs of Waterhouse Hawkins and a Robert F. Sibert Honor for When Marian Sang. Brian divides his time between Brooklyn, New York, and San Diego, California.
Playing with the form he created in his trailblazing debut novel, The Invention of Hugo Cabret, Brian Selznick once again sails into uncharted territory and takes readers on an awe-inspiring journey. A boy named Ben longs for the father he has never known. A girl named Rose dreams of a mysterious actress whose life she chronicles in a scrapbook. When Ben discovers a puzzling clue in his mother's room, and Rose reads an enticing headline in the newspaper, both children set out alone on desperate quests to and what they are missing. Ben's story, set in 1977, is told entirely with words, while Rose's story, set fty years earlier, is told entirely with pictures. The two stories weave back and forth before ultimately coming together.
Rich, complex, aecting, and beautiful—with over 460 pages of original artwork — Wonderstruck is a stunning achievement from a uniquely gifted artist and visionary.