The funds raised by the Willow Glen Foundation may be approved for any purpose pertaining to our mission, provided it directly benefits Willow Glen Middle School and/or Willow Glen High School.
If your academic program or school-serving entity would like to receive funding from the Foundation, you will need to complete an application and review the Staff Guide to Allocations:

Print out the PDF Allocation Request file, and fill out the simple form completely. In addition to your contact and program information, you'll need to know the amount of the financial request (one-time or ongoing), and the source of other expected funding. You'll also need the advance approval of the appropriate school principal.
Once approved, expenses can be reimbursed using our Expense Reimbursement Form.
---
The Foundation continues to focus on inspiring innovation, creative problem solving, collaboration, and compassion to support the long-term success of all students at Willow Glen Middle and High Schools. Your donations go a long way!
Our full 2016-18 Annual Report is currently available for your review!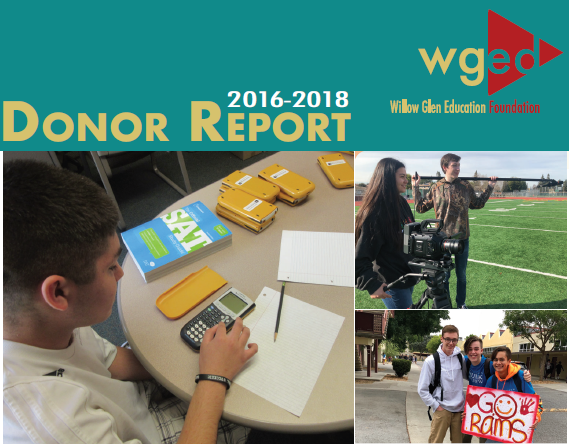 ---
Many of our previous Annual Reports are still available for your review:
---
Join your neighbors and friends! Please consider making a charitable donation to support our kids. All contributions are tax-deductible (Tax ID #46-2106211). If your employer matches donations, please provide us with the information needed to maximize your gift.